eBanking - Online Bank Accounts
Login Enroll in Online Banking
eBanking at DCCU
It's easy to manage your credit union accounts with eBanking - online bank accounts by Dane County Credit Union.
eBanking is full of helpful tools that allow you to easily check your bank account balances, look up transaction history, and schedule transfers to/from all your accounts (even those at other financial institutions!!), create budgets, monitor your credit score, and more! eBanking is an online bank account that is fast, comprehensive, and ready to work for you. We stand, for YOU!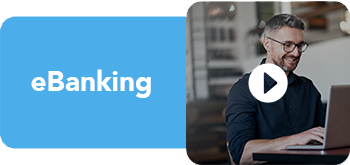 In eBanking you can:
See all of your financial accounts (even those not at DCCU) in one place
Pay bills
Monitor your credit score
Set up text or email alerts of account activity
Look up account transaction history and past statements
Make transfers and loan payments between DCCU accounts OR to/from other financial institutions.
You can do so much with DCCU online bank accounts! Use all the online financial management tools like Bill Pay, My Credit Score, Alerts, eStatements and Trends to get a complete 360 degree view of your financial life.
Forgot your eBanking password?
Call 608 256-5665 and choose option 1.
eBanking will be disabled after a period of inactivity. For optimal results remember to logon to your eBanking account at least every 90 days otherwise activity will be idle and no account history will be downloaded. Call 608 256-5665 with questions.

***PLEASE NOTE – DCCU eBanking may be unavailable for a brief period every night for standard maintenance, updates and data refresh. Downtime is brief - normally lasting only a couple of minutes. Users may be unable to access account information during this period, typically around 2:00 a.m. CST. Financial data and account information remains secure during these updates. We apologize for any inconvenience.
Bill Pay
Take control of your payments with DCCU's online Bill Pay.* Paying bills online is faster, more secure and saves money. Bill Pay is available in eBanking.
For any Bill Pay inquiries, call 833 660-0488.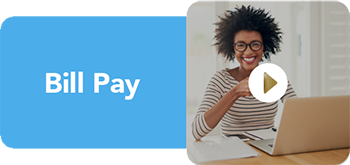 *If you no longer use Bill Pay, please contact us to disable the service. After 6 months of inactivity, a $5 per month inactive fee will be charged. Inactivity may result in termination of your access to and use of eBills without notice to you.
External Transfers
Transfer money to and from your financial institutions and accounts outside of DCCU. Watch the video to see how it works in eBanking and the mobile app.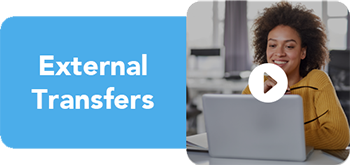 Alerts
Alerts notify you of account activity. Get notified when your account receives a deposit, or your balance drops below a specified amount.
On the Accounts page, select the 3 dots next to your current balance and choose Create Alert for that account.
In the pop up window that opens. choose your preference from the Alert Type drop down menu.
Follow the prompts then choose how you'd like to be notified - by email or text* message.
Review your changes on the next window and click Save Alert to activate it.
eStatements
To enroll in eStatements (paperless, digital statements) click here and follow enrollment instructions. Please note that you will be required to change your password every 90 days for security purposes.