DCCU Mobile Banking App
The DCCU App
Mobile app users will need to download the BLUE app in your app store to enjoy these features:
Touch ID log in
Access to both Mobile Deposit and Mobile Banking in Madison with only one log-in
Instant balance view without logging in
View check images
Easier user interface
Tablet optimization
New app users: to access your accounts you must first be enrolled in eBanking.
Check your Logon ID
If your eBanking Logon ID is your DCCU member number or Social Security Number please first follow these steps to change it:
Logon to eBanking using your current ID and password
Select the Self Service tab at the top
In the Security Information area choose Change Logon ID
Choose a new Logon ID that is NOT your DCCU member number or Social Security Number
Mobile Banking
Sign on to Mobile Banking in Madison through the DCCU App. Enter your eBanking Logon ID and password. NOTE: If your eBanking Logon ID is your DCCU member or account number, you first need to change it to a new Logon ID within eBanking (follow the steps above). If you have trouble getting started, please call us at 608 256-5665 or 800 593-3228 for assistance.
Within our mobile app, you have easy access to your account. Rest assured your private info is secure because Mobile Banking uses the same, up-to-date, high-security measures as eBanking.
Transfer money between your DCCU accounts
Check account balances
Make or schedule payments to merchants you've already set up in Bill Pay.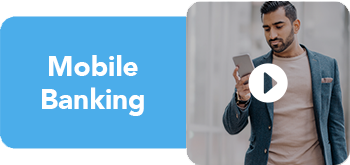 Mobile Deposit
Mobile Deposit is a free convenience available to qualified DCCU online banking users through our Mobile App. You're able to deposit checks directly into your account no matter where you are - it's secure and quick!
Sign up for eBanking and download our app by searching 'Dane County Credit Union' in your app store.
Once you're ready, select Deposit and follow the prompts. It's as simple as taking two photos with your smart phone after you've endorsed the check. Approved checks are credited to accounts Monday-Friday. Funds become available 1 to 3 business days after approval.
Limits
$10,000 per item
No 2 party checks
Suggestions and Tips for using Mobile Deposit
Detach check stubs; only the check itself should be imaged.
Image your check on a solid, flat background and ensure that the check fills the majority of the photo image.
Verify that the check image is clear and right-side-up before submitting.
Along with your signature endorsement please write "For Mobile Deposit Only." Checks must be endorsed by all parties named on the front of the check.
We cannot accept post-dated checks or signed-over checks.
We recommend retaining the paper item for 60 days; be sure to verify that the check has been posted to your account before destroying it. We suggest writing "Mobile Deposit" and the date of deposit below your endorsement after you've verified the deposit in your account, to avoid accidentally depositing it a second time.
Do not write "Void" on the front of the check after you scan it.
Card Valet App
The Card Valet App from our partner, Fiserv, lets you use your mobile device to help you stay in control of your finances, keep your account safe, and prevent fraud. Transactions are secure as your account information is not stored on your mobile device. Find Card Valet in your app store and after you've downloaded it, register your DCCU debit cards for extra safety and control. PLEASE NOTE: When registering your debit card you will need to enter the last 4 digits of the PRIMARY (name listed first on your DCCU account) member's Social Security Number.
CardValet enables cardholders to:
Monitor and control card transactions
Parents: Manage and review card usage for your dependents
Business Owners: Enforce company spending policy compliance on business cards
Get account Alerts on your mobile phone
Log in to your eBanking account and select the Self Service tab, select one or more of the Alert links and check the Mobile Message box to the right. View available online banking alerts.
Mobile Banking will be disabled after a period of inactivity.