Debit Cards

A debit card is a convenient and safe way to access your DCCU checking account. Any qualified member who has a checking account with DCCU may take advantage of our debit card. You can use your debit card at stores, restaurants, to do transactions at ATMs, and to order merchandise by phone, online, or mail. Funds will be deducted directly from your DCCU checking account.
DCCU Debit Mastercard®
DCCU members receive a debit Mastercard® that provides members with secure chip technology as well as a number of additional benefits only available to Mastercard® cardholders.
Express yourself! Choose a special debit card design that reflects what's important to you. You'll be proud to carry and use your new debit card whenever you make a purchase or pay for service. Debit Card Designs
Debit Mastercard® benefits
Latest security with chip technology
Mastercard® Global Service
Identity Theft Resolution Services
Mastercard® Airport Concierge
To find out details of these Mastercard® programs please refer to the Guide To Benefits that is sent with your card.
Changing your PIN (Personal Identification Number)
Choose the method that is most convenient for you:
Call 800 992-3808 - the new PIN will be active immediately
You can reset your PIN in person at any of our branch locations. The new PIN will be active the next day.
If you know your current PIN, you can reset it at our ATM at Rimrock Road, Struck Street or E. Washington Avenue. The new PIN will be active immediately.
Fee-free ATM Access
Enjoy a fee-free ATM at these DCCU branch locations:
Worldwide ATM Access for DCCU Members
Find national or international fee-free ATM access for members of Dane County Credit Union. ATM Alliance One Network.
Download the Alliance One ATM Locater App in your device's app store
EMV Chip Cards
The chip on the card generates a one-time use code for each transaction you make lessening the chances of your information being compromised in the event of a merchant data breach. Chip cards are much harder for criminals to create counterfeit cards with compromised account data due to the chip.
Read more about EMV Chip Cards and Chip Card Best Practices.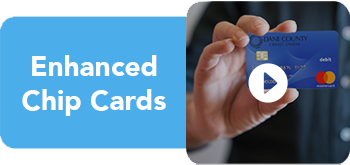 uChoose Rewards
uChoose Rewards is a unique program that rewards you for using your DCCU Mastercard debit card. Earn one point for every two US dollars ($2) spent on eligible debit card signature purchases. We keep track of all the points you've earned. Points can be redeemed anytime and are good for three years from the time they are earned. You will earn points on all signature transactions after initial activation of your card.
Register, view your points balance or redeem points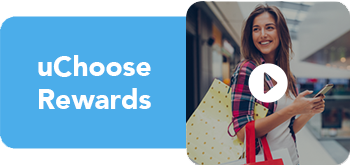 Card Valet App
The Card Valet App from our partner, Fiserv, lets you use your mobile device to help you stay in control of your finances, keep your account safe, and prevent fraud. Transactions are secure as your account information is not stored on your mobile device. Find Card Valet in your app store and after you've downloaded it, register your DCCU debit cards for extra safety and control. PLEASE NOTE: When registering your debit card you will need to enter the last 4 digits of the PRIMARY (name listed first on your DCCU account) member's Social Security Number.
CardValet enables cardholders to:
Monitor and control card transactions
Parents: Manage and review card usage for your dependents
Business Owners: Enforce company spending policy compliance on business cards
Digital Wallet: Apple Pay, Google Pay, and Samsung Pay
A digital wallet is a virtual wallet on your smart phone that allows you to make electronic transactions or payments. It can be used to purchase items at a store, online, and sometimes within other apps.
Your DCCU Mastercard debit card and Élan Visa credit card may be linked to your digital wallet.
Your DCCU Mastercard debit card works with Apple Pay, Google Pay, and Samsung Pay! With a single tap it's possible to make secure, mobile payments at over 220,000 locations.
DCCU credit cards also work with Apple Pay and Google Pay.